Stelo is highly customizable, supporting all source and destination targets.
Supported Sources and Destinations
Below is a list of sources and destinations supported by Stelo. Don't see your database listed? Contact us to discuss additional options.
* Snapshot replication only
Supported Source Databases
Actian Pervasive PSQL*
Amazon Redshift*
Amazon Relational Database Service (RDS)
Amazon Web Services (AWS)
Amazon Web Services (AWS) Aurora
Apache Derby*
Apache Kafka / Confluent
Databricks Lakehouse
Exasol
Google Cloud
Google Cloud SQL for MySQL
IBM Db2 for i
IBM Db2 for z/OS*
IBM Db2 LUW
IBM Informix
Kognitio WX2*
MariaDB
Microsoft Azure
Microsoft Azure SQL
Microsoft Azure Synapse
Microsoft SQL Server 2000*
Microsoft SQL Server 2005*
Microsoft SQL Server 2008*
Microsoft SQL Server 2008R2*
Microsoft SQL Server 2012 and later
MySQL
Netezza*
Oracle Cloud Infrasturcture (OCI)
Oracle Database 10g*
Oracle Database 11.2 or later
Oracle Database 21
PostgreSQL
Salesforce*
SAP Hana
Tibero*
TmaxSoft
Supported Destination Databases
Any ODBC Database (including all supported sources)
Azure Synapse
Confluent
Databricks
Google BigQuery
Snowflake
Supported Clients
Linux x86-64 (AMD64)
Linux x86-64 (Intel EM64T)
Windows 10, 64-bit Edition
Windows 11, 64-bit Edition
Windows 8.1, 64-bit Edition
Windows Server 2012R2
Windows Server 2016
Windows Server 2019
Windows Server 2022
Stelo Technical Data Sheet
Stelo moves data easily among your core relational databases in real time across firewalls, to other teams, or to the cloud. We provide data availability and secure replication across multiple databases in real time, regardless of host or target system location.
IT teams experience an elegant, simply designed solution with minimal host impact that can be configured in hours, not days or weeks. Download our data sheet to learn more about Stelo's supported data stores, key features, and scalable benefits that include:
No-programming
Ease and Affordability
Powerful, Flexible, and Secure Data Transformations
Flexible Licensing and Expert Support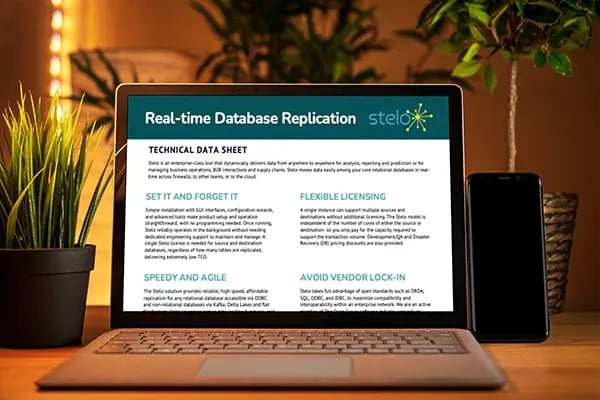 Challenges of Data Management
Cost and Vendor Lock-In
Stelo uses an open-standards approach to remain vendor agnostic and to continuously meet emerging requirements.
Support for Current Tools
We provide easy access to a real person who can provide end-to-end process support and knowledge.
Data Scalability
Cost-effectively meet your current and future replication needs through our tiered licensing model.
Functionality and Ease-of-Use
Set it and forget it: Simple GUI for easy setup and ongoing use. Deploy in hours, not weeks, without any programming.
Legacy System Migration
With more than 30 years of proven replication expertise, Stelo is the bridge to connect your isolated systems.
Audit Compliance
Our software not only moves your data but also allows you to inspect and analyze information changes.
How to Futureproof Data Management Strategy to Prioritize Change Data
Rich change data is essential in helping businesses adapt, respond, and thrive in today's environment. With the help of AI and ML, change data helps you analyze and power your business.
Today, self-defining messages and data repositories are becoming more popular for their ability to support Big Data and massive amounts of change data. While these messages and repositories help businesses to become less dependent on databases, they also highlight the the flaws in a stagnant data management strategy.
In this white paper, we explore the importance of futureproofing your data ecosystem, and look at data management and messaging structures that will scale with your business.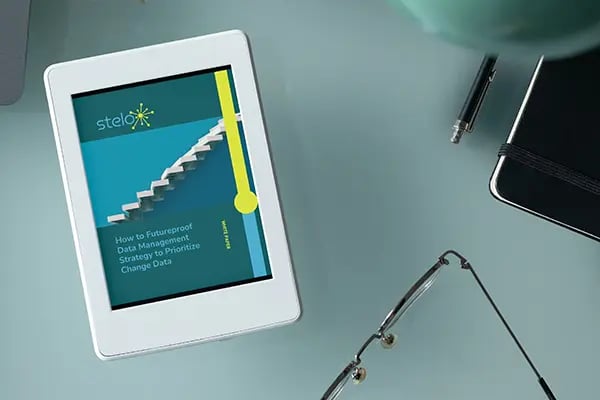 Trusted by
Businesses Like You
Get Started
These three steps will help you ensure Stelo works for your needs, then seamlessly deploy your solution.
Schedule a Demo
Our expert consultants will guide you through the functionality of Stelo, using your intended data stores.
Try Stelo
Test the full capability of the software in your own environment for 15 days. No obligations.
Go Live
When you're ready, we can deploy your Stelo instance in under 24 hours with no disruptions to your operations.